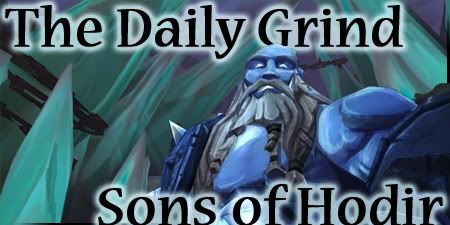 Dailies are a great, quick way to make gold. Sure, they're repetitive, boring, and sometimes result in pvp, but you're generating gold without needing to make an auction. While doing your dailies, you can sometimes get world drop epics (I've gotten four that I can recall), and plenty of greens to DE and vendor trash to convert to gold.
The first daily quest hub I'm taking a look at is
The Sons of Hodir
. The Sons of Hodir are the faction from which you can purchase pve oriented Shoulder Inscriptions. Once upon a time, these were BoP, and every character leveled needed their own faction reputation with Hodir to enable them to glyph their shoulders - unless of course, they were an inscriptionist.
Nowadays, since Hodir's glyphs were changed to BoA and everyone only needs one character with reputation, as well as the availability of
rep tokens from heroic badges
, Hodir's valley is often a virtual ghost town. This means less competition for the daily mobs, more discoveries of
Everfrost Chips
, and a quick, often painless place to visit to make some quick gold.
Once you are exalted with Hodir, you will have access to:
1:
Blowing Hodir's Horn
(13g 23s)
2: F
eeding Arngrim
(13g 23s0)
3:
Hot and Cold
(13g 23s)
4:
Polishing the Helm
(13g 23s)
5:
Spy Hunter
(13g 23s)
6:
Thrusting Hodir's Spear
(16g 53s)
This is a total gold value of 82g 68s plus loot from mobs. Quick and easy.
However, the chain to unlock Hodir is a long, arduous journey. The upside to this is that it becomes available at level 77, and provides delicious XP. At level 80, the chain itself is an excellent source of gold, leading to a source for gold!
It all begins in K3 with
Gretchen Fizzlespark
's
They Took Our Men
! The rest of that chain is as follows:
1.
They Took Our Men!
2.
Leave No Goblin Behind
3.
The Crone's Bargain
4.
Mildred the Cruel
5.
Discipline
6.
Examples to be Made
7.
A Certain Prisoner
8.
A Change of Scenery
9.
Is That Your Goblin?
10.
The Hyldsmeet
11.
Taking on All Challengers
12.
You'll Need a Bear
13.
Going Bearback
14.
Cold Hearted
15.
Deemed Worthy
16.
Making a Harness
17.
The Last of Her Kind
18.
The Warm-Up
19.
Into the Pit
20
Prepare for Glory
21
Lok'lira's Parting Gift
22.
The Drakkensryd
23.
Sibling Rivalry
24.
Mending Fences
25.
The Refiner's Fire
26.
A Spark of Hope
At this point you should be neutral with Sons of Hodir, and able to begin the rep grind to unlock all of the dailies. Don't forget the Everfrost and Commendation Badges!